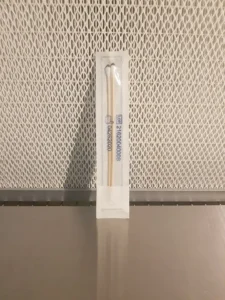 We now have Shakti magic mushroom spores swabs for sale in the UK. The Shakti is a rare and exotic Psilocybe cubensis strain. It is an albino mutation of the Malabar mushroom that originated in Malabar Coast, India. This mushroom is characterized by its stout appearance, thick large stems and rigid caps. It has an above average potency with euphoric and stunning visual effects. We sell spores of this magic mushroom for microscopy.
The spore prints and swabs we receive have been produced in sterile, professionally equipped laboratories that operate to the highest standards. This ensures quality genetic specimens for your microscopy research.
To ensure maximum cleanliness, all of our products are made in a clean air lab environment, fully kitted with 99.99% efficient high-efficiency particulate air (HEPA) filtration. This removes contaminants and particulates from the air, so that you can be confident that the spore sample you receive is as clean as can be.

What Is Included 
Our high-density Shakti spore swabs come with millions of spores, making them ideal for microscopy. It is simply a must-have for any collector's spore library.
Spores are swabbed onto medical sterile cotton sticks. This is to ensure the highest quality and cleanest possible spore sample.
Cotton spore swab 2x pack

Storage Of Shakti Spore Swabs
For long-term storage, keep spore syringes in a dark place and preferably in a fridge at 2-8 ℃. They will last up to a year or more if stored correctly.
PLEASE NOTE: These are spore swabs, NOT spore syringes. Please make sure you are aware of the difference before purchasing. We do not recommend this product for beginners.