100ML 4-ACO-DMT Microdosing Kit for Sale In The UK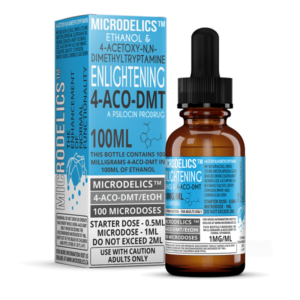 100ML 4-ACO-DMT Microdosing Kit and 1P-LSD are very potent chemicals, even at the microdose level. Please secure and store your 4-ACO-DMT bottles in lockable container in the freezer inaccessible by children and pets.
The kit contains 124mg (milligrams) of 4-ACO-DMT buy in 100ml (milliliters) of ethanol, a measuring cup, instructions and a 3ml oral syringe. The average microdose of 4-ACO-DMT is 1mg/ml. Shake well before each use and keep stored at -20c/-4f.
This bottle contains 50-100 microdoses of 4-ACO-DMT 1-2ml per dose.
Of the many "grey market" research chemicals out there, 4-AcO-DMT for sale is probably among the safest.
Erowid's 4-ACO-DMT for Basics
Microdosing 4-ACO-DMT every day is not recommended. Psychedelics like 100ML 4-ACO-DMT Microdosing Kit produce a tolerance, even with microdoses, so you might see diminishing returns after a few days.

4-ACO-DMT vs Psilocybin (Mushrooms)
Psilocybin and 4-ACO-DMT have very similar effects and share similar chemical structures.  The effects of 4-ACO-DMT lasts slightly longer (up to 7 hours) than that of psilocybin (4-6 hours).  Both psilocybin and 4-ACO-DMT are converted into psilocin in your body after being ingested.
Many reports of 4-ACO-DMT compare it favorably to psilocybin, describing it as more euphoric, gentle, warm, and colorful. It has also been described as less jarring/scary, and less likely to produce nausea as there is less material to consume.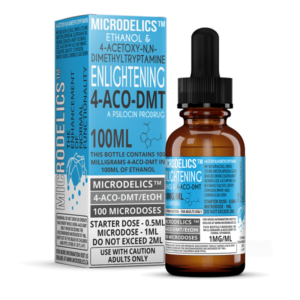 Please do not ask questions related to microdosing for human consumption or we will have to close your account. These products are sold for research purposes only!